October 12th, 2013
Dear Phil
 This is just a short note to pass on a long overdue thank you to both of you for the wonderful contribution your suits made to our wedding day. The Day was a fantastic success. The guys looked absolutely superb in the suits as you can see from the photo. 
Your friendly and personal service and 'nothing is too much trouble' attitude really set you apart from the other outfitters we made enquiries of in the early stages.
 Given that our wedding was overseas, and the additional challenges that posed, the way you seemed to go that extra mile to accommodate us, was invaluable.
 Particularly impressive was your seemingly unflappable nature when our 22 month-old son decided to have a growth spurt at the last minute, which you took in your stride, even though it meant a hasty tailoring job on his trousers the day before we were due to fly out!
We would have no hesitation in recommending you to friends or family looking for an outfitter for their wedding, or other occasion for that matter. You helped to make our Day really special and we will never forget the part you played in it.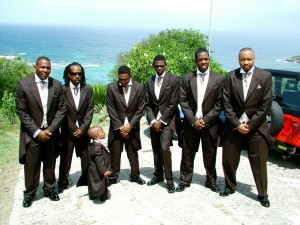 Fondest regards,
Andrea and Jason Rodgers
---