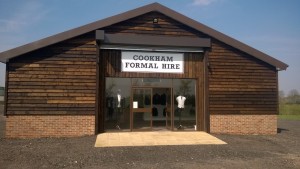 We are moving!
It's with great anticipation and pleasure to let you know that on 9th January 2017 we relocated our Windsor Store to a more comfortable and spacious area. Our new location is Cookham Formal Hire, Unit 24, Lower Mount Farm, Long Lane, Cookham, Berks SL6 9EE.  Our primary email address is also still the same: phil@windsorformalhire.com. We have new contact details of 01628 526222 and phil@cookhamformalhire.co.uk
Our new and better location is close to Copas Farms 'Pick Your Own' and only a short walk from Cookham train station. Our new location will also provide you with ample private parking!
Since we first opened our doors on 29 November 2004 your loyal business and support is one of the main reasons why we've grown so much over the years, and at the former location, the limited parking and tight working spaces are no longer acceptable.
As of 9 January 2017, we are no longer at this address. Feel free to contact us with any questions you may have concerning the new location or our services. We look forward to seeing you in Cookham.